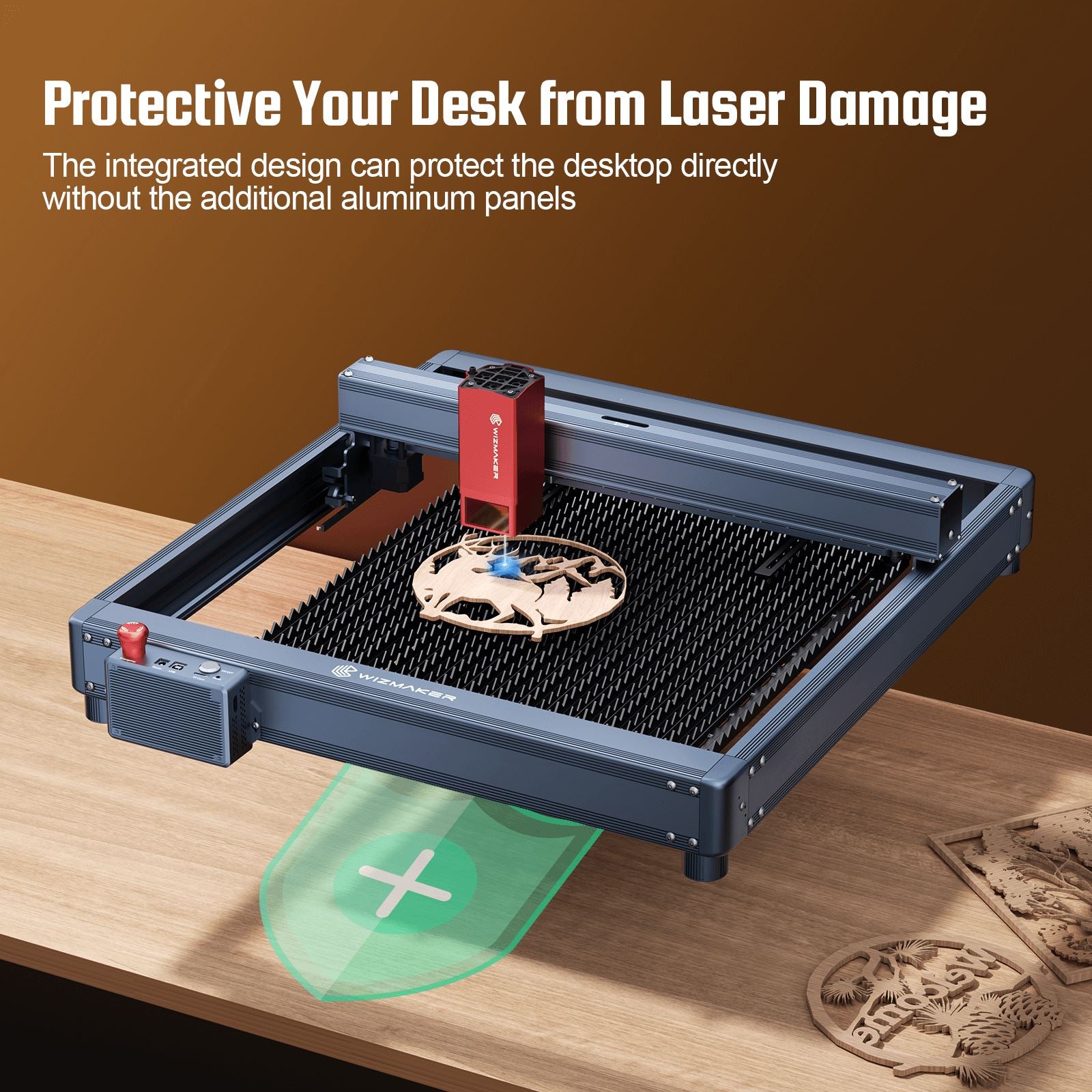 Share
Frequently Bought Together
Faster Speed & High Accuracy
Upgraded 20-24W Laser module and 32 bit motherboard support faster cutting and engraving speed. Ultra-fine laser focus is reduced to 0.06 x 0.06mm, provide you a higher accuracy engraving artwork. WIZMAKER laser engraver can cut 10-12mm paulownia wood and 8-10mm acrylic in one pass, and up to 20mm wood, 15mm acrylic, 0.05mm metal steel. Also can directly engrave metal, ceramics, glass, the engraving and cutting speed is 40% higher than the ordinary model.

Solid & Easy to Install
The sturdy and easy installation all-aluminum alloy anodized structure, and all-metal wheel, shaft, and enclosed synchronous belt makes the laser module still ensure motion stability under high-speed up to 400mm/s, improves the accuracy of engraving. And the entire structure of laser cutter has been designed for quick assembly, and the assembly can generally be completed within 10-25 minutes.

Safe & Longer Service Life
The red emergency button on the laser engraving machine allows you to stop the operation at any unexpected situations. The laser eye shield on laser module can effectively filter 97% of UV rays, effectively protecting your eyes all the time. Equipped with air assist, it can reduce burn marks on cutting edge, making details more perfect. Blow away smoke and dust effectively to ensures the stability of laser energy while extending the life of the laser engraver.

Support Multiple Software & File Format
Compatible with various mature engraving software, such as LaserGRBL(free), LightBurn (paid), support Win XP / Win 7 / Win 8 / Win 10 / MAC system (LightBurn). The engraving file format supports NC, BMP, JPG, PNG, DXF etc. WIZMAKER Laser engraving cutting machine can be used for acrylic, slate, paper, cloth, brick, fruit, food, leather, etc. It will bring you a new DIY lazer engraving experience!
JOIN OUR FACEBOOK GROUP NOW!
Ready to dive into the fun?Join our Facebook group and hop on the excitement train! 🎉🚀Connect with fellow enthusiasts, swap stories, and score exclusive updates and events.Don't wait – come join the party! 🎈👥