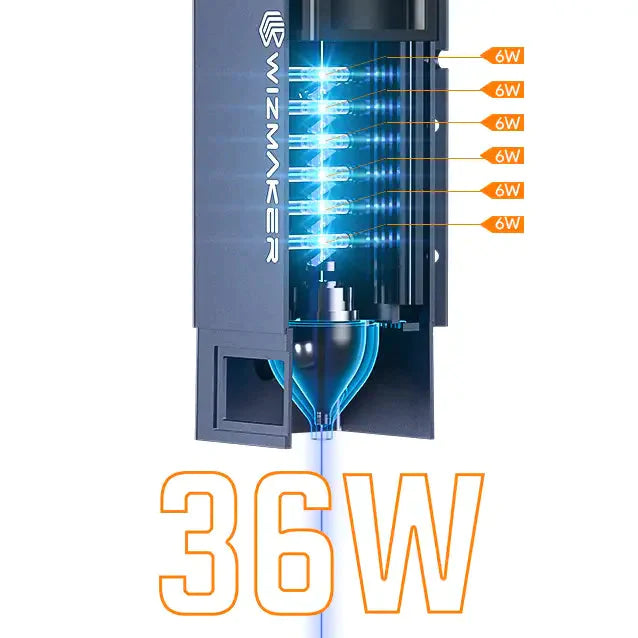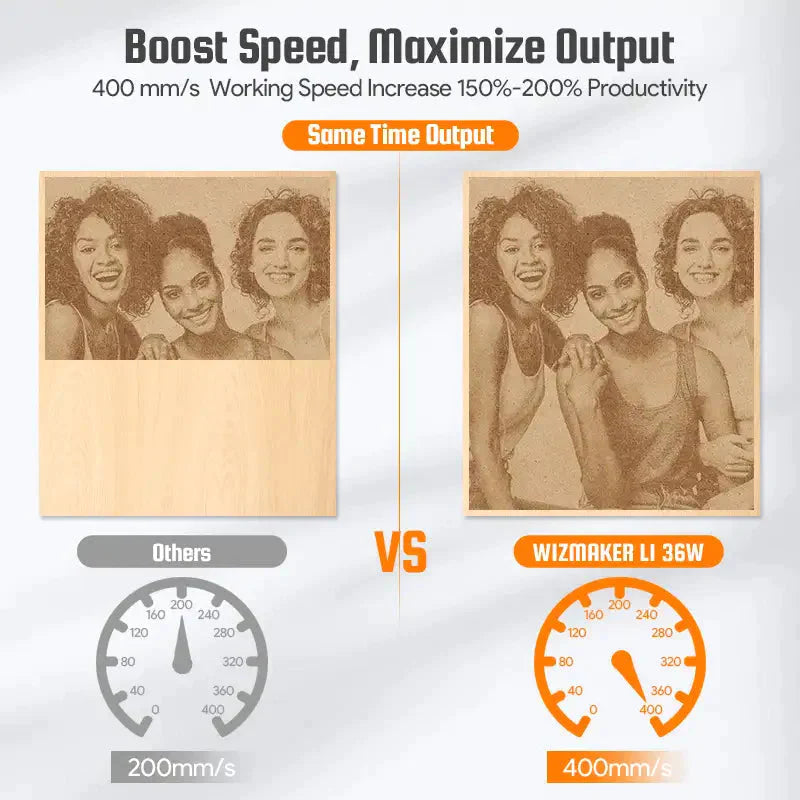 Share
Frequently Bought Together
World's 36W Laser Engraver & Cutter
WIZMAKER L1 36W laser engraving machine with 144W machine power and 36W laser power. It can provide unrivaled speed and precision for all your engraving needs. WIZMAKER L1 36W Laser cutter can cut 18mm paulownia wood, 12mm black acrylic, and 0.1mm metal at one time. and up to 30mm paulownia wood, 40mm black acrylic, and 0.3mm metal. It can also directly engrave more than 400 kinds of materials such as metal, ceramics, glass, and leather.
High Precision and High Efficiency
Upgraded 36W laser module support faster cutting and engraving speed. The ultra-fine laser focus is reduced to 0.06 x 0.08mm, providing you with higher precision artwork. The solid all-aluminum anodized structure, all-metal wheels, shafts, and closed synchronous belts, enable the laser module to ensure movement stability at high speeds up to 420mm/s. WIZMAKER 36W laser engraver saves 40%-80% time with higher efficiency than 10W laser engraving machine.
More Safe & Easy to Use
The red emergency button allows you to stop the operation in any unexpected situation. The laser eye shield on the laser module can effectively filter 97% of UV rays, protecting your eyes at all times. Two limit switches can position the laser module and control the movement trajectory. WIZMAKER laser engraver is equipped with a 32-bit motherboard, smarter and easier to use. The entire structure is designed for quick assembly and can be assembled in 10-25 minutes.
Support Multiple Software & File Format
WIZMAKER L1 is compatible with various mature engraving software, such as LaserGRBL(free), LightBurn (paid), support Win XP / Win 7 / Win 8 / Win 10 / MAC system (LightBurn). The engraving file format supports NC, BMP, JPG, PNG, DXF etc. WIZMAKER Laser engraver and cutter machine can be used for acrylic, slate, paper, cloth, brick, fruit, food, leather, etc. It will bring you a new DIY laser engraving experience!
JOIN OUR FACEBOOK GROUP NOW!
Ready to dive into the fun?Join our Facebook group and hop on the excitement train! 🎉🚀Connect with fellow enthusiasts, swap stories, and score exclusive updates and events.Don't wait – come join the party! 🎈👥