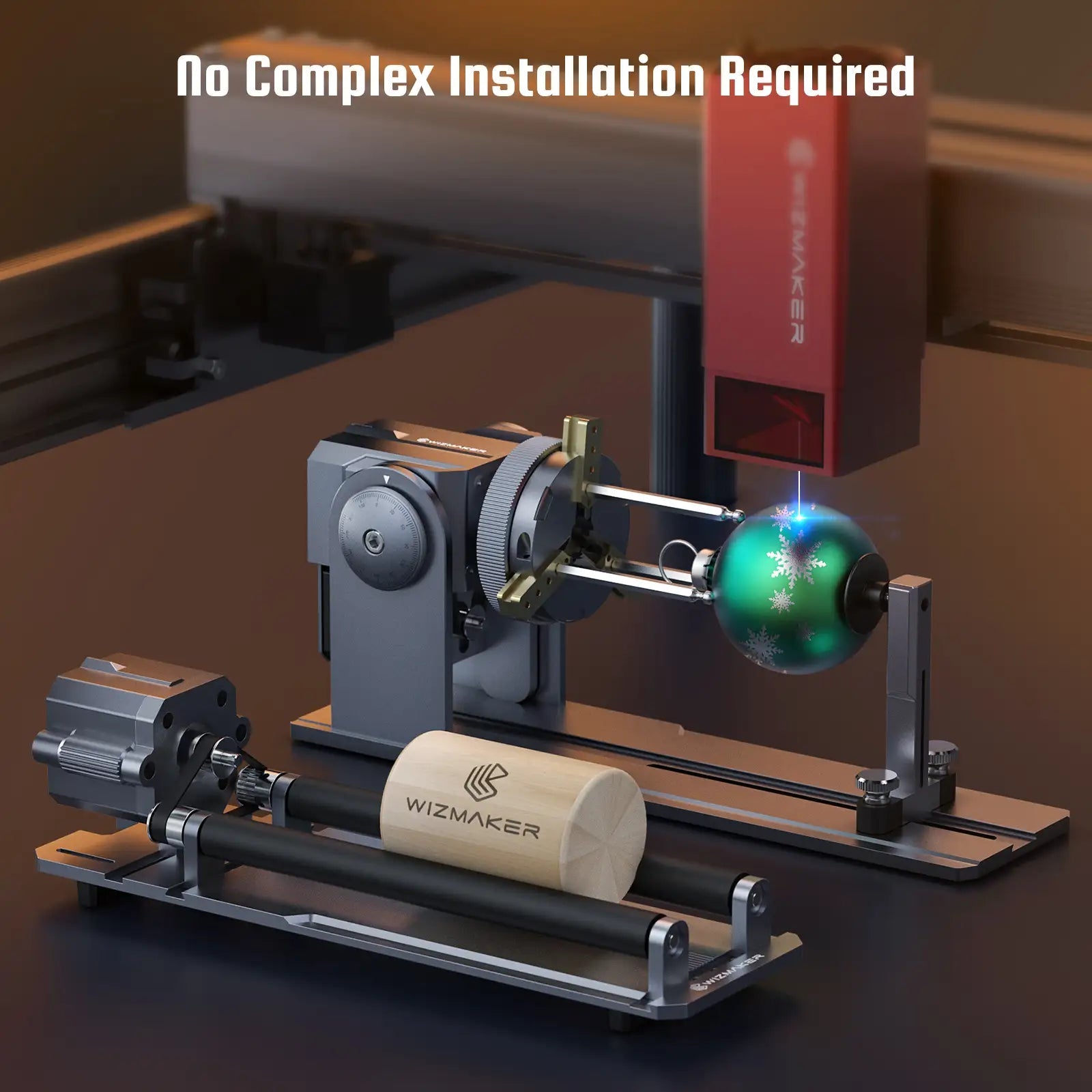 Share
Frequently Bought Together
Suitable for 95% of Cylindrical Objects
The laser Rotray set offers a wider range of engraving options, including Roller Rotary, Chuck Rotary, Sphere-Engraving Module, and Ring-Engraving Stud, providing excellent support, lifting, rotation, and fixing functions for the object. With the WIZMAKER Y-axis rotary chuck, you can unleash your creativity on almost all circular objects. Such as: wine glass, baseball bat, ring, ball, or mug with handle.

High precision and fast speed
WIZMAKER laser rotray roller can use a cover clamp to grip objects, making the operation smooth and efficient. With the support of a high torque motor, the engraving speed can reach 6000mm/Min, and the carving accuracy can reach 0.1mm. It can perform vectorized fine carving, perfectly presenting details. Ensure high-quality final artwork with professional technology.

Great for Engraving objects of different sizes
You can expand and shrink the size by using the rolling chuck or assembling the jaws on different holes. The WIZMAKER rotary chuck allows for carving diameters ranging from 1mm to 130mm, spheres from 4mm to 200mm, rings from 4mm to 130mm, and supports 180°angle adjustment and 360°rotation to enhance the flexibility of engraving angle. Making it possible for you to unleash your creativity on most cylindrical objects.

Durable & Convenient
Our laser rotary is made of high-strength aluminum alloy and a one-piece structure. The jaws are made of high-hardness brass, which is sturdy and reliable, and will not slip even after long-term use. Unlike most products on the market where the roller and chuck need to be disassembled before use, WIZAMKER chuck rotary and rotary roller are two separate products for easy to use.

Easy Installation and Wide Compatibility
If you need install rotary roller on engraver, only need to replace the Y-axis terminal to connect the engraving machine, where there is no need to assembly is required. The laser rotary chuck set is compatible with most laser engraver (Excluding fiber lasers) on the market. The Y-axis rotary chuck is also compatible with software such as LaserGRBL/LightBurn, and supports Windows/MacOS/Android/iOS.