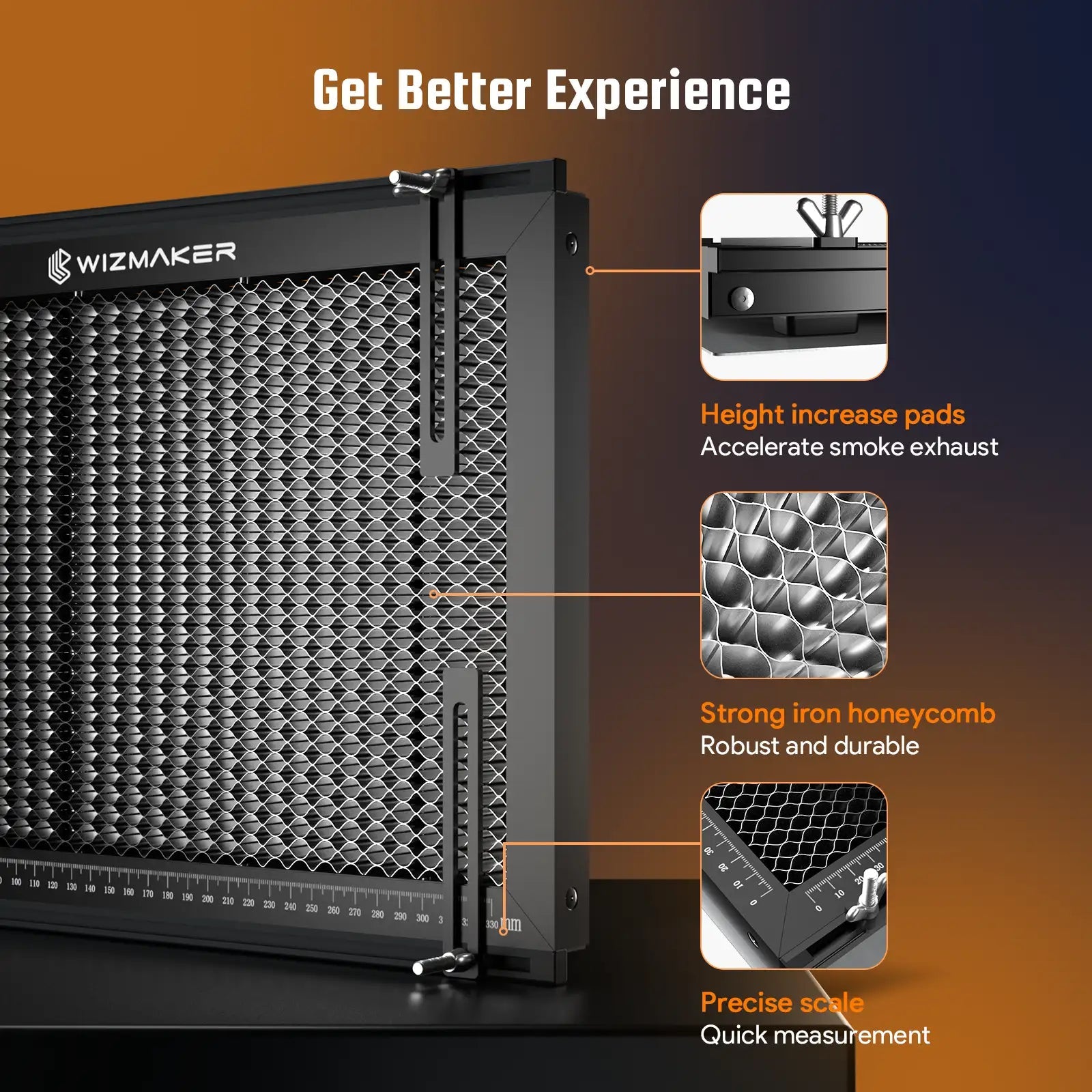 Share
Double Protection Desktop
WIZMAKER honeycomb laser bed adopts a scientific and reasonable honeycomb height design to prevent laser burn of the workbench or desktop. It is also equipped with an stainless steel protective panel, which can further protect your desk from laser damage.

Better Cutting & Engraving
It is made of iron and aluminum, making them more stable, and durable. Flat and smooth with an open honeycomb holes design, which can fast heat dissipation. And it comes with 4 height increase pads to accelerate airflow, effectively preventing smoke accumulation, solving the problem of wood and other materials blackening due to smoke, and enhancing laser cutter the cutting effect.

Anti-slip clamps for fixing material
The laser cutter bed comes with 4 metal fixtures, suitable for fixing various sizes of engraving & cutting material, prevent the engraved objects from shifting during the carving process, it can also flatten the boards bent due to moisture. Four magnetic suction modules are included, which can fix not only thick items but also very thin items.

Quicker Measurements
We have added high-resolution and precise scale lines on the X-axis and Y-axis of the honeycomb working table. The measurement markings make it really useful for placement. Help you to quickly measure the engraving size.

Wide Compatibility
The honeycomb working panel is perfect for WIZMAKER L1, L2, L3 laser engraving machines. It is also compatible with other brand laser engraver and cutters. The honeycomb laser bed is 14.96 x 11.18 x 0.79inch.